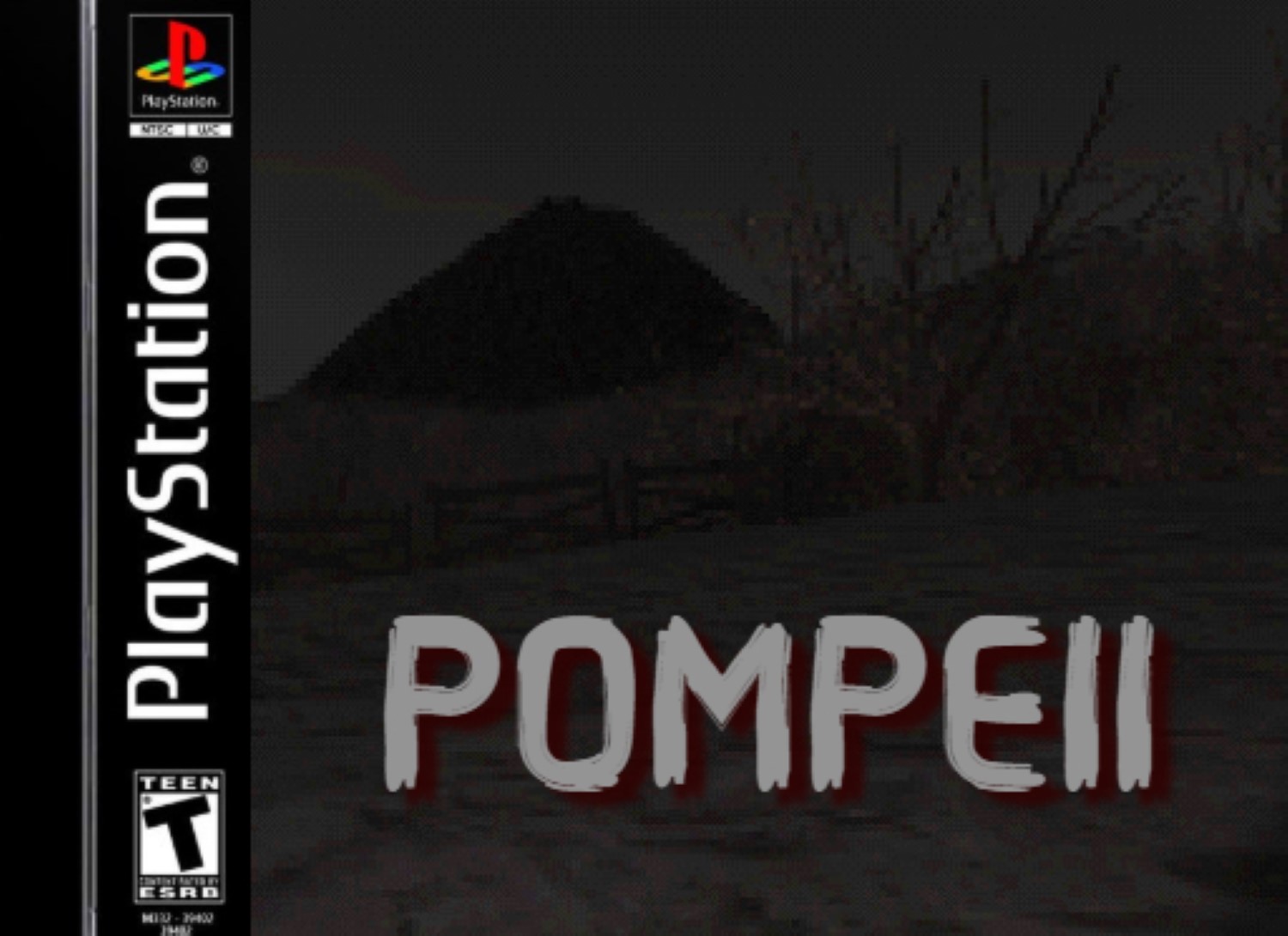 Pompeii (In development)
A downloadable Horror Experience
You are requested to explore the abandoned island of Pompeii.
The further in you go, the more you want to turn back, but can you?
| | | |
| --- | --- | --- |
| WASD | Move | |
| Mouse | Look | |
| F | Flashlight | |
| ESC | Pause | |

NOTE:
I am just starting out as a game developer, so it may not be the most well-made game. That doesn't mean it can't be a fun experience.
THERE IS AN ENDING (SEARCH FOR DOORS TO OPEN)
This game is not at all historically or physically accurate to the real Pompeii.
May contain flashing lights, does not save.
Use headphones for best experience.
SUPPORT:
Youtube: https://www.youtube.com/channel/UCUH5s8dz_MzjYZDdXfOwGBg
Instagram: @tbitcoding https://www.instagram.com/tbitcoding/
(Made for the "Haunted PS1 Summer Of Screams" game jam https://itch.io/jam/haunted-ps1-summer-spooks)
Install instructions
1. Download the .zip file
2. Move to Desktop or any chosen location
3. Right click over the file and hit "Extract All"
4. Once extracted, open up the .exe file
Enjoy!
THERE IS AN ENDING TO THE GAME, IF YOU GET STUCK, JUST LOOK AROUND FOR DOORS TO OPEN

Comments
Log in with itch.io to leave a comment.
Thank you for the playthrough! :) As you and many others have requested, I will be adding much more to the game in the next update 👍
Hello again, I played it and got to the end, I liked the PS1 look of the game but a couple of things I'd like to mention is that the enemy design wasn't great and some of the jumpscares felt a bit weird but over all I liked the idea of it, good work :)
Thank you! I definitely am planning on fixing a few of those things. Nice video!
Definitely weird, the jumpscare got me pretty good, but I wish the ending wasn't reliant on the player giving up.
It was the 3rd game I played in this video.
Thank you for playing the game! I definitely am making a lot of major changes, so that the player doesn't have to be a quitter to end the game. Nice video!
Cool game, good timed jumpscares.
Thank you so much! That video is awesome and it really gave me a good laugh, you're hilarious 😂
It was intereting. Are you planning to do anymore with it? And thank you for the compliment :)
Your welcome. I'm planning to add endings, and maybe have a way to go into the volcano.
hello, I tried to play this game but I couldnt find what to do after the mannequin appeared behind me, you mentioned that there is also a house which appears with the mannequin but I couldnt find it
Thanks for playing! I'm going to make a walkthrough of the game that you could watch. Just go to the two closest houses, one should have a door that will fall towards you when you open it, and when you walk inside, the game will continue.
Thank you so much! I will definitely check it out and support your channel. Thanks for the support!
My pleasure giving your game some sport light even if it is to a smaller channel we are growing fairly well which makes me excited! Thank you for your support aswell TBit Coding!
Thank you for playing the game! Great video btw. To finish the game, you need to go into the house that's located on the right side, closest to the volcano (it appears when the man does). From there, the game will continue.